Connecting local Active Directory Cloud (AD) and Azure
Balázs Nagy
2017-03-06
Active Directory Cloud Enablement
Connecting local AD to Azure
With the deployment of more and more Office 365 services, managing separate AD instances can be daunting. Fortunately, Microsoft offers great tools to get your Active Directory Cloud initiative working. Azure's AD is the backing AD for the Office 365 services. In this article, I am providing a summary of the key points to remember when connecting to Azure's AD.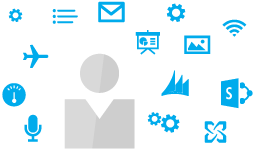 Microsoft provides a very powerful set of tools to easily connect a local Active Directory to Azure. There are also some advanced options available if you decide to use Azure as a full-blown AD server for your organization. However, it is important to be very careful. Here is what can happen if the connection isn't done right: most if not all of the users will be locked out of their account. That means, no email (Outlook), no SharePoint, no OneDrive.
 The key is to configure the ADD connect the tool with a custom setting in order to make sure that the local domain doesn't take over the Office 365 domain. The following steps assume that you have Office 365 deployed for your main domain. For example, NewPush.com is our main domain. 
Quick summary to connect the Active Directory Cloud 
1)    Check that all your local users have their email address set up properly in the "mail" attribute of your local AD. At this stage, you should also make sure that you have an Office 365 account set up with Global Admin privileges, and on the default Microsoft domain (e.g. [email protected]
2)    Installing the ADD. This is straightforward, however, make sure to not finish the install with the defaults, as we modify the sync rules in the next step. If you already installed, and have the wrong settings, you need to uninstall, reboot and reinstall.
3)     Select custom synchronization setting and select the mail attribute as UPN for sync which results in your main domain remaining the one used on Office 365. 
References for Active Directory to Azure Connection
1)      http://www.microsoft.com/en-us/download/details.aspx?id=47594
2)      https://docs.microsoft.com/en-us/azure/active-directory/connect/active-directory-aadconnect-get-started-custom   Custom installation of ADD connect Start to end. 
 Please let me know if you found these instructions helpful, and do not hesitate to send me feedback.