NewPush Recognized as Top 20 VMware Cloud provider 2016
Balázs Nagy
2016-11-11
CIO Review recognition
NewPush started using VMware technologies from its inception in 1999. At the time the first dot com boom was just heating up. Many virtualization technologies were emerging for the Intel platform. Over the years we kept focusing on providing enterprise-grade infrastructure. Meanwhile, we have kept increasing the role of VMware as we understood that for Intel-based hardware VMware provided the most reliable enterprise solutions. As a result, we have moved the use of VMware from our development labs to our production systems and data-centers. Since the 2010's we are formally a VMware partner providing VMware Cloud solutions. Most noteworthy, the last few years have shown a tremendous growth in the capabilities VMware Cloud delivers. Therefore it is our pleasure to announce that CIO Review has recognized NewPush as a top 20 VMware technology provider.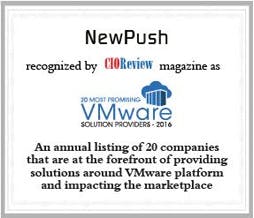 VMware Cloud Solutions
Important milestone for NewPush
This recognition is a milestone that is important to us. We have worked hard to pioneer and to be successful in deploying state of the art VMware based cloud technologies. Our recent work focuses on NSX, vSAN, and the vRealize suite. As we continue our quest to provide the best cloud services to our customers, we look forward to deploy the new Docker and Hadoop enablement technologies.
Looking ahead
Cloud technologies keep changing at an ever-increasing pace. Companies who stay ahead are going to continue to have a competitive advantage, by providing a better customer experience. By partnering for technology decisions with NewPush, you can spend more time with your core business, while ensuring that you have a trusted partner with a proven track record to help you keep a competitive edge on the IT front. If you would like the NewPush advantage for your company, please do not hesitate to get in touch today. We are here to help 24 hours a day, seven days a week.