Cyber Security Advice for Medical Practices
Balázs Nagy
2018-03-27
The sudden increase in cyber attacks happening all around the world is not without its reasons. More than 80% of information – including private details about ourselves – are now stored digitally. Every information is valuable to attackers, which is why we are now seeing more attacks as well as new forms of attacks targeting individuals and large corporations.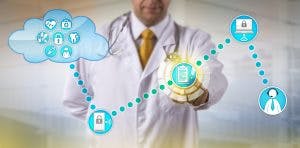 For medical practices, information security is essential. Patient information and details about the practice's operations are too valuable to handle carelessly. There are ways to improve cybersecurity throughout your medical practice and we are going to discuss some of them in this article.
Follow the Standards
The healthcare industry is highly regulated down to the last letter and information security is no exception. The HIPAA medical information security guidelines are something that every healthcare service provider must follow.
Fortunately, most solutions available to the industry already take HIPAA compliance very seriously. You know you can count on the software, devices, and other solutions that comply with HIPAA to safeguard your information. Following the correct security standards is a great first step to take.
Secure the Equipment
Using the correct, well-secured equipment is another must. You can't count on poorly secured equipment, especially in today's world where attacks to IoT and electronic devices are more common than ever. Similar to choosing software and solutions, there are standards to follow.
According to Rishin Patel Insight Medical Partners' President and CEO, newer equipment is designed to be more secure from the ground up, especially compared to older alternatives. His company provides easy access to the most advanced products and technologies so that medical practices can remain safe and protected.
Have a Backup Routine
To have a strong information security foundation, the third thing you need to add is a good backup routine. Maintain on-site and off-site (cloud) backups of sensitive information so that your medical practice can recover from catastrophic cyber attack seamlessly.
In the event of a ransomware attack, for instance, you can wipe your computers and restore essential data from various sources. When hardware fails, there is still a cloud backup to turn to. Adding a good backup routine to the practice's everyday workflow completes the equation and provides your medical practice with a good security foundation.
Train the People
Once the foundation is laid, it is time to tackle the biggest information security challenge of them all: the people. Bad habits like using a weak or common password, exchanging login information or user access with coworkers, clicking URLs from illegitimate sources, and copying data to a flash drive and then not handling it properly are still the most common causes of cyber attacks.
It is imperative that the people involved in handling information know how to handle information securely. Information security trainings are great for changing some of the more common bad habits quickly. As an extra layer of security, putting in place a set of security policies is also highly recommended.
There are still so many things you can do to protect your medical practice from cyber attacks, but these first steps are the ones to take to get started. Be sure to implement these measures immediately before your practice becomes the victim of a cyber attack.